1st march 2018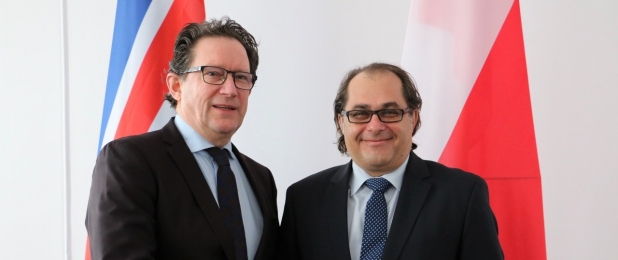 Fisheries and Agriculture Minister of Iceland in Warsaw
During the second day of the visit the Icelandic delegation met in Warsaw with Marek Gróbarczyk – Minister of Maritime Economy and Inland Navigation, Michał Wójcik - Director of Department of International Cooperation and with Marta Rabczyńska – Kapcińska – Deputy Director of Department of Fisheries.
The main point of the visit in Warsaw was a meeting in the Ministry during which the following topics were discussed: Polish-Icelandic cooperation within 2 years from the date of signature the Memorandum of Understanding, scientific cooperation, setting up a Working Group which will enhance actions of the two Ministeries and opportunities to intensify trade between the two countries. In addition to the fruitful meeting, the Icelandic delegation visited e.g. Łazienki Królewskie as well as the Warsaw Rising Museum where they also paid tribute to the Warsaw insurgents.
The visit of the Icelandic Minister to Poland was the result of Minister Gróbarczyk visit to Iceland in July 2016.
[Photos courtesy of the Ministry of Maritime Economy and Inland Navigation]