15th october 2018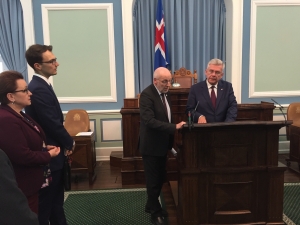 Honorary Consul of Iceland in Warsaw Mr Bogusław Szemioth had the honour to participate in official visit of the Speaker of Polish Senate Mr Stanisław Karczewski to Iceland.
The Speaker of Polish Senate with delegation paid the visit to Iceland on 12-14 October 2018.
The main point of visit was the celebration of the tenth anniversary of Polish School in Reykjavik named after Janusz Korczak and the meeting with the President of the Iceland Parliament.